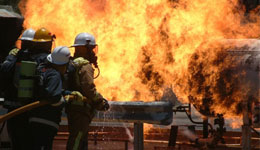 On September 26, 2011, a natural gas leak caused a major explosion and fire that injured two persons inside their north Seattle home. The couple, both in their 50's, suffered serious burns and were taken to Harborview Medical Center in Seattle. Harborview Medical Center has one of the best burn units in the country. Since it opened in 1974, Harborview's Burn Center has treated more than 15,000 patients and has a survival rate of about 96 percent.
The gas fumes that had accumulated inside the home were apparently sparked by a household appliance when the couple awoke. Investigators from Puget Sound Energy determined that a downed tree hitting a power line had caused electricity to travel through the trunk of the tree and into the ground, which punctured gas lines when the power surged. That power surge caused leaks in several pipes throughout the neighborhood and likely played a role in the leak that caused the explosion.
In the wake of this explosion, there are a number of questions that remained unanswered. First, what did PSE do in the wake of the tree falling to determine if a risk was posed to gas lines underneath the tree? Second, did the power company play a role in causing the damage to the gas lines? What is the role of the power company? When they began to have leaks in the area, did PSE properly investigate those leaks to determine their cause in a timely manner? Third, should PSE have warned those persons living in the neighborhood?
Our law firm helps home owners find answers to these difficult questions and works hard to hold responsible parties accountable for putting the public at risk for serious injuries. Our hearts go out to the victims of this explosion for their injuries and the loss of their home.