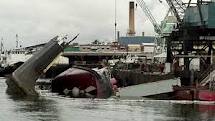 On Sunday, March 18, 2012 a 200-foot section of dry dock containing the 140-foot tug Invader sunk causing the tug to capsize at the Vigor Marine Shipyard in Everett, Washington. The dry dock began sinking on Saturday evening and stopped at approximately 12 p.m., Sunday, after making contact with the sea floor. Both the dry dock and the Invader are partially submerged, with the Invader capsized, listing 90 degrees on its starboard side. The cause of the sinking has not been determined.
Due to the presence of fuel on the tug, the Coast Guard and Washington Dept. of Ecology are treating the sinking as a potential environmental hazard. The owner of the Invader has confirmed that an estimated 50,000-60,000 gallons of diesel is contained in the vessel's fuel tanks. Crews sealed the tanks over the weekend to prevent a release of the oil into the water and workers have surrounded the area with three rows of oil spill containment boom in case of a leak or spill.
Salvage crews are on scene, and have set the dock level so that it rests on the bottom at its mooring, and have stabilized the tug. Salvage experts are currently developing a plan to right the tug.
Under maritime law, those that participate in successful salvage operations of vessels or other property from the water are entitled to a salvage award for their services. You may contact our firm for more information and a free, no obligation consultation at 866-377-0191.